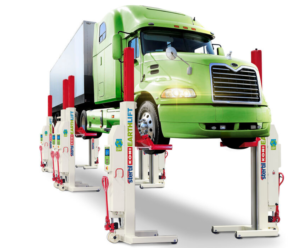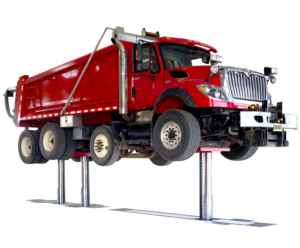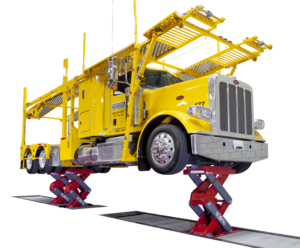 Wireless Mobile Column Lifts from Stertil-Koni are truly portable.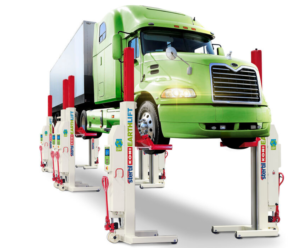 They're safe, secure and certified. What's more, because no external power source or interconnecting communications cables are are required, the risk of operator tripping is eliminated.
And, set up time is minimal.
Wireless Mobile Column Lifts deliver programmable features and a multi master system with control panel on each column.
Connect up to 32 columns in a set.
They are available in the following capacities per column: 16,500 lbs., 18,500 lbs., 22,000 lbs. and 40,000 lbs. What's more, each wireless Mobile Column Lift features a full-color, high resolution, 7" touch screen control panel – the ebright Smart Control System. Recharging is easy from any 110 volt outlet.
Available in Wireless, Cabled and EARTHLIFT models
Rapid lifting and lowering every time
Maximum strength with high tensile DOMEX steel
Full-color touch screen controls on all models
Super safe mechanical locking system as standard
Overload protection and synchronization as standard
Adjustable pick-up forks
The Stertil-Koni SKYLIFT is a superior heavy duty platform lift that uniquely provides a "clear floor" concept for the user with a true, vertical rise. The product's elegant design includes two independent runways, vertical lifting, no crossbeams, no overhang and no base frame.
The SKYLIFT hydraulic vehicle lift provides free access from all sides with easy installation and minimal maintenance. The lift's modular design allows for flush mounted or surface mounted installation and permits various lengths to be incorporated in a single lift.
Free access from all sides
No overhang, no crossbeams, no base frame
Mechanical locking system
True vertical lifting
Available in flush or surface mounted
Tandem configuration, up to 100 ft. in length with capacity of 156,000 lbs.
Automatic safeguard against overloading or uncontrolled descent
ebright Smart Control Console
Stertil-Koni's inground telescopic piston DIAMONDLIFT set a new industry standard for inground lifts. The state-of-the-art DIAMONDLIFT gives you a choice in a variety of workshop situations.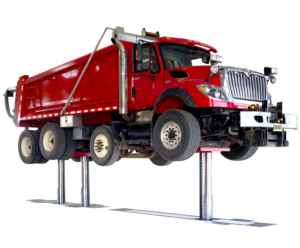 Whether you are building a new workshop; want to renovate or have difficult building conditions, there is a Stertil-Koni inground DIAMONDLIFT which can be configured specifically for your circumstances.
DIAMONDLIFT is available in two, three and four-piston configurations with lifting capacities of up to 35,000 lbs. per piston — thus 64,000 lbs.- 70,000 lbs. (two pistons) and 96,000 lbs. – 105,000 lbs. (three pistons) and 105,000 lbs. – 140,000 lbs. (four pistons) respectively.
DIAMONDLIFT now comes with the optional Continuous Recess® movable lifting system. The Continuous Recess version with a broad base frame or cassette is recommended for vehicles with low ground clearance, for example, city transit and articulated buses preventing damage to the undercarriage of the vehicle. The movable pistons can recess below floor level anywhere within the travel range.
Capacity up to 35,000 lbs. per piston
Electronically synchronized for maximum safety and convenience
Hard-chrome plated piston rods for maximum protection against corrosion, wear and debris
Mechanical locking system utilizes a hardened, nitro carburized locking rod for maximum protection
ebright Smart Control System – Advanced Touchscreen Technology Offers Fingertip Control
All power units and control components are located above floor level
Low oil volume – only 4.5 gallons of hydraulic fluid required per piston
Aluminum trench covers with 13,600 lbs. drive over load
ALI Gold Certification Label
Continuous Recess movable lifting system
ECOLIFT is the industry's original ultra-shallow, full-rise axle-engaging inground scissor lift.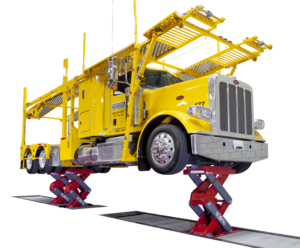 Available in a 2, 3 or 4 scissor configuration, with a total lifting capacity of 60,000 lbs., 90,000 lbs., and 120,000 lbs. respectively – at 30,000 lbs. per scissor.
Wheels-free lifting with superior ease-of-use and performance
Ultra-shallow pit design, only 34"
Ideal for retrofit installations and new workshops
Full rise 70" lifting height for maximum convenience and usability
Electronically synchronized for ultimate safety
Free-standing console provides easy access for quick service and maintenance
Continuous recess for maximum flexibility
FREEDOMLIFT
FREEDOMLIFT combines peak performance and safety through a symmetrical, open floor design that optimizes workspace in the shop. Engineered to lift a broad range of light-to-medium-duty vehicles with capacities ranging from 16,000 lbs. to 30,000 lbs.
Flexible and efficient
Optimal workshop space
Single and double telescopic arms
Extended Flex Arms (EFA) offers maximum flexibility
ANSI/ALI-ALCTV / CSA Certified
HD 4-Post Lift
Stertil-Koni Heavy Duty 4-Post Lifts are available in four models and suitable for lifting a wide range of commercial vehicles — even 3 wheel forklift trucks.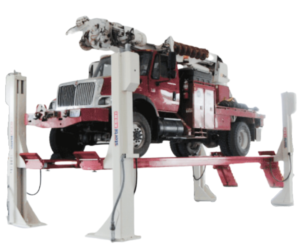 4-Post lifts from Stertil-Koni are available in four models:
The ST 4120 is one of the most advanced and unique medium capacity HD four post lifts, featuring electronic synchronization and a lifting capacity up to 30,000 lbs.
The ST 4175 model has a lifting capacity up to 50,000 lbs. and is designed free of cross beams for complete access.
And, the ST 4250 really stands out in heavy duty lifting, with a capacity of 66,000 lbs., or 132,000 lbs. in a tandem configuration.
The ST 4600, with a capacity of 132,000 lbs. is truly a unique drive-on platform lift and is regarded as the largest certified platform lift of its type in North America.
Dependable hydraulic technology
Very low drive-on height
Ideal for low-ground-clearance vehicles
Runways available in multiple lengths (depending on model)
Automatic overload protection
Independent mechanical locking system
Tandem configurations
Inground and Surface Mount
Have Questions or Need to Place an Order?
If you have any questions or need to place an order- please feel free to give us a quick call:  608-838-8151.