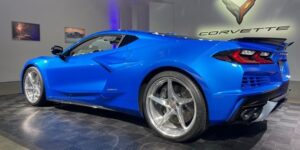 -BY Gary Gastelu/Fox News
The first Chevrolet Corvette E-Ray has been sold for a shocking price.
The landmark model was offered at the Barrett-Jackson Palm Beach auction where it
was purchased for $1.1 million. That's more than 10 times its list price of $104,295, but
it wasn't just bought for the bragging rights. All the proceeds from the auction were
earmarked for the Donors Choose charity, which helps buy supplies and project
materials for public schools. The buyer was none other than NASCAR team owner and
car dealer Rick Hendrick, who has been the high bidder at many GM charity auctions.
Last year Hendrick paid $3.6 million for the first mid-engine Corvette Z06 to support
Operation Homefront.
The Corvette E-Ray features an all-wheel-drive hybrid powertrain that has an electric
motor driving the front wheels and another assisting its 6.2-liter V8. It has a combined
655 horsepower and can accelerate to 60 mph in 2.5 seconds and cover a quarter-mile
in 10.5 seconds, making it the quickest Corvette and General Motors vehicle ever built.
Its 1.9 kilowatt-hour battery pack cant be charged from a plug, but does allow it to
operate in an all-electric Stealth mode at speeds under 45 mph for a couple of models
when fully charged by its regenerative braking system and the excess energy created by
the engine. The hybrid technology is primarily meant for performance, however,
according to Chevrolet.
Hendrick can expect to get his car sometime this summer when deliveries of the
Corvette E-Ray are scheduled to begin.